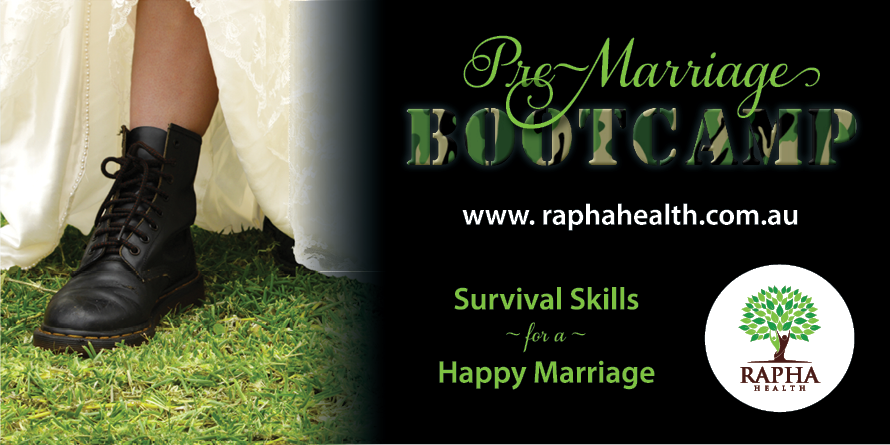 In 2020 Dr Gavin Brown will be running Pre-Marriage Bootcamps.
Marriage is one of the most important aspects of our life and yet we receive no 'formal' training or preparation for it. For most of us, the model we have of marriage is what we saw our parents do or not do. Research has indicated that half of all marriages that end will do so within the first 7 years. All the more reason to start off well and give your marriage its best chance. Participating in premarital education has been linked to higher levels of satisfaction and commitment in marriage, lower levels of conflict and reduced likelihood of divorce.
The Pre-Marriage Bootcamp will assist you and your partner in the following areas:
How to be sure that you have a solid and lasting friendship.
How to avoid causing hurt to your partner (even when its unintentional).
Understanding and managing conflict.
Learning how to make compromises that actually work.
How to have successful discussions about difficult topics such as money and sex.
Learn what are the factors that predict divorce and how to avoid the traps.
This is an education event, not a therapy event.  While your partner and yourself will complete activities throughout the seminar, you will not be asked to discuss your relationship with anyone other than your partner.
Rapha Health offers our Pre-Marriage Bootcamp in a few different formats. There is the opportunity to participate in 5 weekly evening sessions or 2 full-day sessions conducted over consecutive Sundays.  Below are the upcoming dates and times of our Bootcamps for 2020:
Group One
BOOKINGS ARE
NO LONGER
AVAILABLE
FOR THIS GROUP
Group Two
BOOKINGS ARE
NO LONGER
AVAILABLE
FOR THIS GROUP
Group Three
BOOKINGS ARE
NO LONGER
AVAILABLE
FOR THIS GROUP
Bookings are now closed via our Try Booking yellow links above. Please feel free to email info@raphahealth.com.au and ask to be included on our waitlist for future courses.
Begin growing again with our help
At Rapha Health, your caring and professional psychologist in Springfield is dedicated to helping you grow and overcome the unique difficulties you're facing in your life. You don't have to do it alone.
Contact us today on 0411 427 489 – we're here to help!